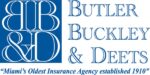 Description

Butler, Buckley, Deets, Inc. is one of Miami's 10 oldest companies still around and operated by the original founding family. The agency started in 1910 in downtown Miami and was known as Newman-Butler, MacVeigh Co.


Raymond W. Butler, Sr. bought out his partners in 1932 and changed the name to Raymond W. Butler, Inc. The agency survived all of the turbulent times of the depression and was the only agency in Dade County to pay off all of its account payables to the insurance companies. The Butler family paid its dept to the insurance companies by selling the land that had been acquired in the early 20's. Ooh that hurt! One of the properties is the triangle where "Tobacco Road" is located.


Raymond W. Butler, Jr., was originally a Pan American Pilot and came into the agency business in 1949 when his father suffered a stroke.


The agency flourished under his command and he was developing the agency to leave to his three sons.


In 1969, his dream came true and Raymond W. Butler, III went to work for the agency. Tom Butler came into the agency in 1972 and Richard Butler followed in 1978.


The agency lost Raymond W. Butler, Jr. in 1980 to an untimely death, but continued to grow and diversify. The agency took on two partners in 1994, Larry Deets and Thomas Buckley and the name changed to Butler, Buckley, Deets, Inc.


Today the agency handles 35 million dollars in premium volume and has diversified into 3rd party claims administration, staff leasing, and consulting for many large corporations. Some of their consulting clients include the University of Miami, Coca-Cola of Puerto Rico and several cities on the Gold Coast.


The agency has continued to bring family members on board with the hiring of Forrest Butler, Brandon Butler and Garret Butler who represent the fourth generation of Butlers.