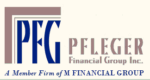 Description

Pfleger Financial Group, Inc. is a boutique insurance advisory firm specializing in life, health, annuity, disability and long-term care insurance products. Pfleger Financial has served the insurance and benefit needs of affluent individuals and corporations for over 40 years.


Pfleger Financial Group, Inc. is the South Florida member firm of M Financial Group, a national consortium comprised of over 100 independently owned firms located across the country. M Financial Group is the largest life insurance marketing organization in the country with over $1 Billion in new life insurance premium written each year. This relationship gives Pfleger Financial Group, Inc. access to unique insurance solutions and exceptional buying power.


Pfleger Financial Group takes pride in the scope of their services, and in the value they deliver to their clients.