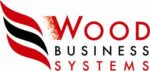 Description

Wood Business Systems (WBS) is in its third decade of servicing the South Florida Community. Beginning with two employees in Ft. Lauderdale, the company quickly expanded north to Palm Beach County. Then in 1988, Wood Business Systems opened its Miami office. Wood Business Systems is in the position to provide all of South Florida the service and professionalism deserved.


In July of 2007, WBS was purchased by the Pater Group. They are one of the largest privately held business equipment companies in the U.S., with offices in Florida, Texas, North Carolina, and South Carolina. Our mission is to be the best imaging solutions company in identifying, qualifying and delivering document solutions and services to all of South Florida through enhancing our valued client's bottom line.


Wood Business Products now offers the latest in digital technology from scanning systems, digital copiers, computer systems and engineering equipment. We also provide Kyocera and sharp Factory Trained technicians for technical support or any questions or problems that may arise.


"Remember, we sell copiers, not wood."